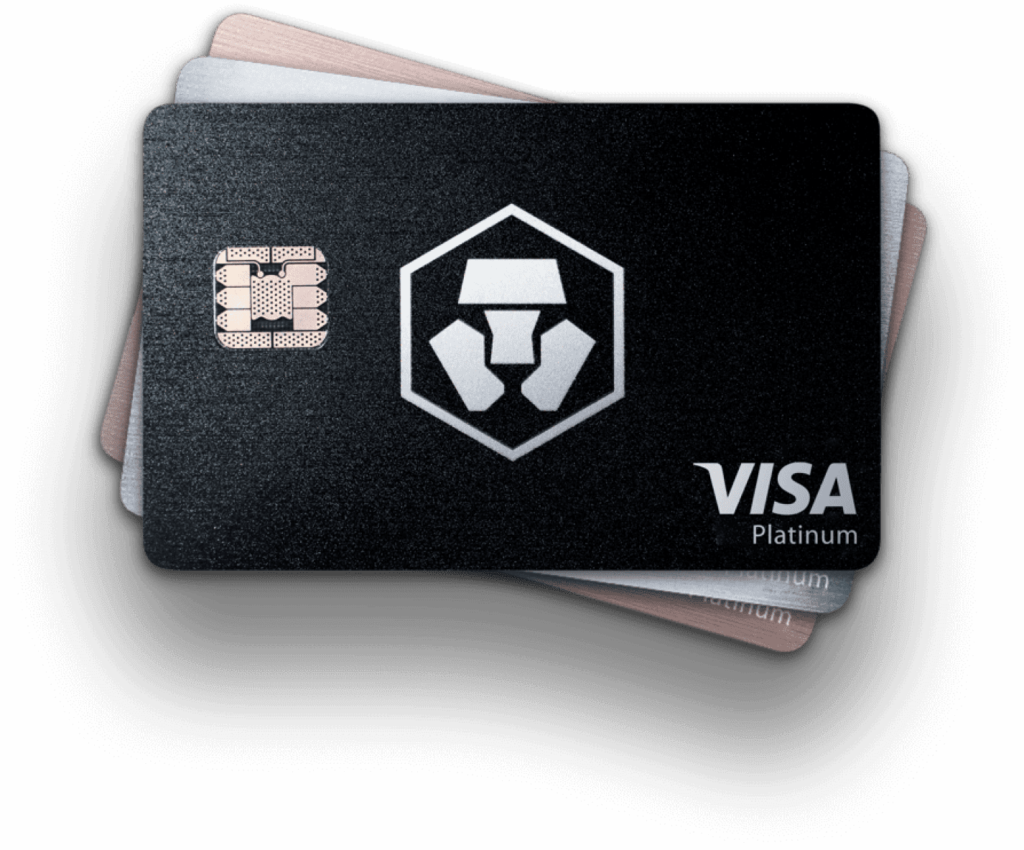 Card Benefits
Obsidian Card
Frosted Rose / Icy White
Royal Indigo & Jade Green
Ruby Steel
Midnight Blue
Required Staking in Cro-Coin
400,000$
350.000€
40,000$
35.000€
4,000$
3.500€
400$
350€
0$
0€
Cashback in Cro
8 %
5 %
3 %
2 %
1 %
Spotify Cashback
100%
100%
100%
100%
Netflix Cashback (100%)
100%
100%
100%
Amazon Prime Cashback (100%)
100%
100%
Expedia Cashback
10%
10%
Airbnb Cashback
10%
Airport Lounge Access
owner + 1
owner + 1
owner
Crypto.com Private
yes
yes
yes
Earn Bonus Reward
yes
yes
Exclusive Merchandise Welcome Pack
yes
yes
Private Jet Partnership
yes

Free Limits
| | | | | | |
| --- | --- | --- | --- | --- | --- |
| Free ATM Withrawal / Month | 1000 $/€ | 100 $/€ | 800 $/€ | 400 $/€ | 200 $/€ |
| Free Currency Exchange Transactions / Month | – / unlim. | – / 15k | – / 10k | – / 4k | – / 2k |
Crypto.com infos
Crypto.com has been founded in 2016. Their vision was, that crypto can be put into a wallet.
For that purpose they developed their own cryptocurrency – the Crypto.com Coin (Cro). The Crypto.com chain has been made to accelerate the global acceptance of cryptocurrencies. People should have more control over their money again.
Crypto.com has become very popular for their huge advertising campaigns. They have partnered with many "big players" and even an Arena has been named after Crypto.com. They also partnered with UFC, Fnatic, Aston Martin and did a Commercial with Matt Damon!
In Q4 2021 / Q1 2022 Cro has increased a lot in popularity and the value of Cro increased by 8x.
CRO has increased a lot in popularity and reached the top 20 in terms of market capitalization.
Crypto.com offers by far the best rewards in terms of crypto credit cards. You have to stake by far less crypto, to get a high cashback rate, compared to other competetors. In addition to that you get additional rewards (mentioned above) and stake rewards.
Beginning with the Ruby Steel Card, they are all full quality metal cards.
Requesting a new card or upgrading to a higher tier card, results in a fee of 50€.
It is possible to only upgrade the digital credit card (which you can see in the app and use online only) for free.
My recommendation
Since every upgrade will cost 50$ / € i recommend to directly pick a higher tier. Picking the ruby steel card already doubles your cashback, gives you free Spotify and a metal card. ( Midnight blue is still plastic )
In addition to that, you will get a Sign-Up bonus (in Cro-Token) worth 25 $ !
Their App
Since they want Crypto usable for mainstream, their focus is based on mobile devices. Their Services are mainly offered with a very well working app which can be found in the app-store.
The credit card can be easily toped up with your existing cryptocurrencies, FIAT money or from another credit card.
The App offers many ways to easily invest your cryptocurrencies. Only a few clicks are needed to either stake, use their "supercharger" or "Crypto Earn". Everything is well described and understandable.
If something should be unclear or you simply need help, their chat helps out quickly. You can open a live-chat ticket directly within the app and in average you only have to wait 10 minutes until their customer support responds to you.